Galatians 5:13
For you have been called to live in freedom, my brothers and sisters. But don't use your freedom to satisfy your sinful nature. Instead, use your freedom to serve one another in love.
It was October 25, 1964.
Famous Viking defensive end Jim "Wrong Way" Marshall recovered a fumble and ran 66 yards to score the opposing team a touchdown.
And even though he was the reason the Vikings won the game, most only remember his mistake.
It was the mistake of all mistakes after all!
Scoring for the opposing team.
But don't we all do that a lot?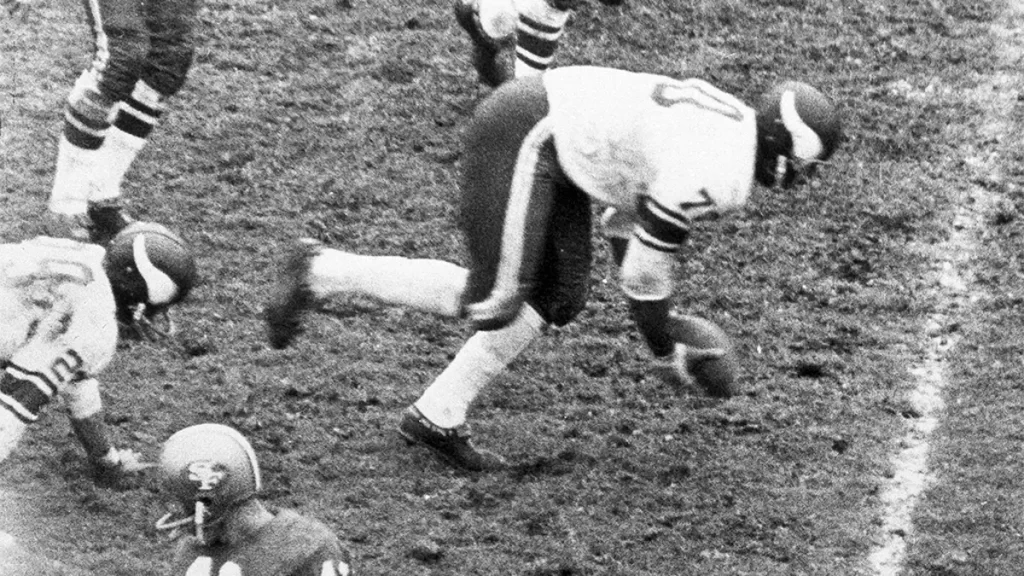 Those of us who are believers in Jesus Christ have been drafted onto freedom's team.
Freedom to love.
And yet, we often use the power of freedom, the work of our coach, and the very field He put us on to satisfy our sinful nature.
We get confused!
We lose our bearings in the middle of the action.
It's understandable. Serving others in love is counterintuitive.
To score points for love, we must willingly submit to servitude.
Scoring for love means willingly chaining yourself to believing in people, hoping for people, enduring for people.
Serving each other in love is a hard game to win.  It demands everything of us.
Don't confuse yourself…
Using your freedom of choice to satisfy your sinful nature does not serve others in love.
It's not loving.
And it puts points on the board for the enemy's team—Satan's sinful team.
            What's one way you've been using your freedom to serve your sinful nature?
            How might you turn around and run towards serving others in love?
Pastor Joshua
Have anything you'd like to add?
Leave a comment below!